On the 12th October 2020, the Canyon Esports development programme was launched was launched as an opportunity for young riders to experience what it is like to race for a top-level team and give them additional exposure that they otherwise wouldn't get. One of the riders to join the inaugural class was a 17-year-old Dutch rider named Maud Oudeman (Now, 18).
Our team has a long history with the Zwift Academy. When the team was first formed, 80% of our female riders were either finalists or semi-finalists of the second edition. Over the years the number of members who have been through the process before joining us has increased to include six previous finalists and winner in Ollie Jones. Last season, Lionel Vujasin became the first rider to return the favour, making the final and just losing out to a very strong Jay Vine. Now Maud is the first to go all the way and win!
Mary Wilkinson, who was a finalist in the third season of Zwift Academy and knows exactly what Maud has been through had this to say:
When Maud applied to join the Canyon Esports Development Team her power numbers and IRL performances were hugely impressive for such a young rider so I knew when she made the ZA finals, she would be a force to be reckoned with. The finals week is understandably stressful and intense - you go through so many emotions which could really make or break a rider and what really impressed me (and I'm sure the judges) was Maud's calmness, confidence in her ability and focus on executing the task at hand. From day one it was clear to me that she was displaying all the attributes that Canyon//SRAM were looking for in their riders. It was hugely impressive and resulted in a truly well-deserved pro contract and a racing career that I can't wait to watch unfold.
Kristin Falck, captain of the Elite women's team noted:
Maud is an example of how good personal traits and energy makes you one of the best. Her talent, dedication, positivity and willingness to put herself in challenging positions all made stand out. Winning the Zwift Academy comes as no surprise to us and is well deserved!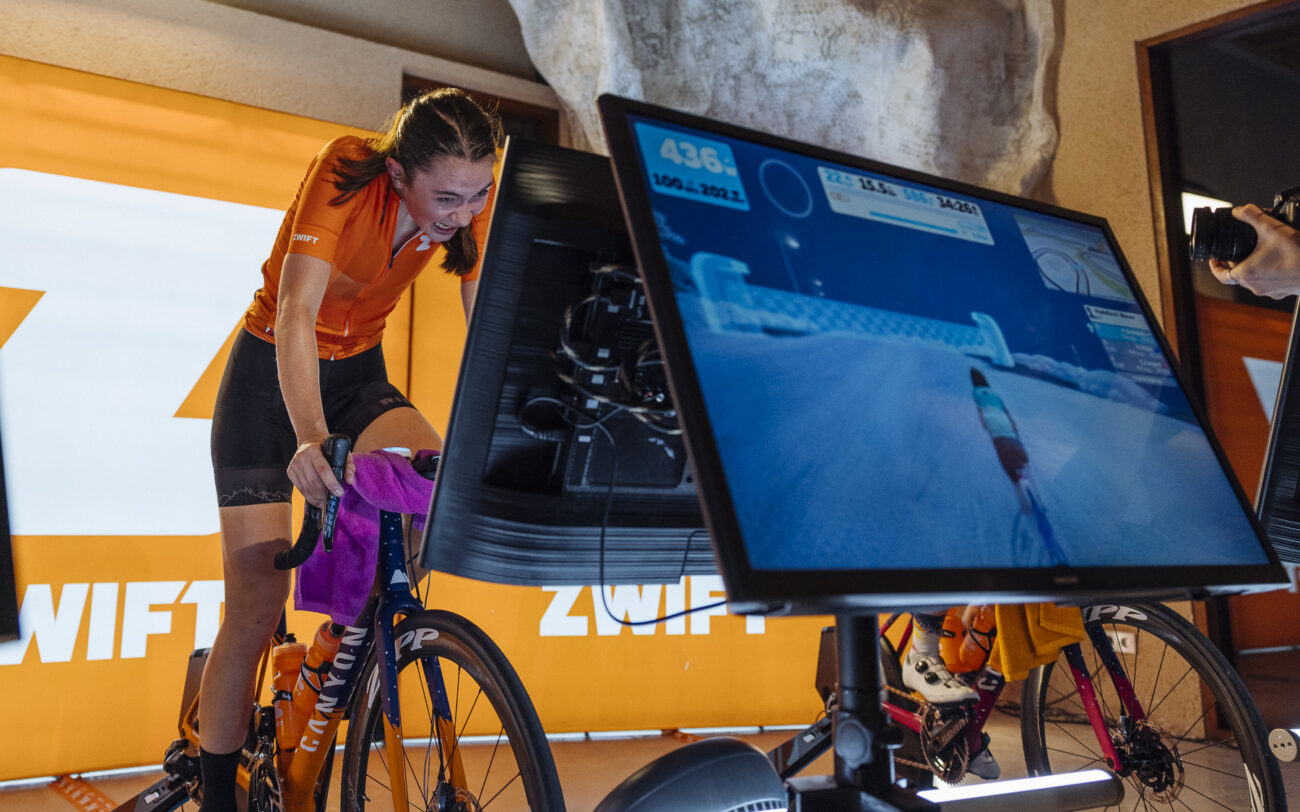 Maud Oudeman (Image credit: Canyon//SRAM | Vernor)
Naturally, we caught up with Maud to see how she is feeling and what the future holds as she embarks on the journey of a lifetime as a professional road cyclist.
Q: Now that you've had a while for this win to sink in, how do you feel about joining Canyon//SRAM in the new year? What are you most looking forward to?
It took a while for it to sink in that I actually won the Zwift Academy. So many cyclists participated this year - over 150,000 riders - so I was already so honored to make it to the Top 5. After making it to the top 3, and then winning the competition? It really is a dream come true. This pathway to becoming pro is incredible and I can't thank Zwift and Canyon//SRAM enough for this opportunity. I am so excited to become a part of this amazing team. I already feel so welcome, and that is really special. Most of all, I am looking forward to riding for one of the best Women's World Tour teams: to be able to learn from the best riders and staff, and race alongside them.
Q: Do you already know what will be your first race of the season?
My first races will probably be in Belgium and the Netherlands where I live, so it'll be very cool to make my entrance in the pro peloton close to home.
Q: What part did eracing play in your success in the Zwift Academy?
Because of eracing, I was used to do races on Zwift. In the finals week, I think it helped me the most on the points race: he first climb was almost crucial. I had almost perfect timing with the power up, and to know a bit how that game works, I felt confident about it. Eracing is most of time a lot about suffering - something I needed to do in every single challenge.
Q: What would be your advice to anyone thinking of making eracing a part of their training?
I would definitely recommend to put eracing in your training schedule. It is different than road racing, but the ability to push during a Zwift race is, I think, higher than in a road race. It will take you into another level of digging deep. And now that eracing gets a World Championship, the level gets higher and higher. You also have good competition during the races so even if you are only a road racer, it is a good new thing to do over the winter. I think it is even more enjoyable to do it in a team like in the Coalition or Canyon Esports.
Q: You've been an incredible inspiration to the team and I am sure to many other riders out there. What would be your advice for anyone thinking of entering Zwift Academy next year?
I have been following the Zwift Academy since 2018 and in this team we have some finalists. They really inspired me to start the Zwift Academy. It feels so unreal that I will now become an inspiration to others. If you are able to then I would definitely recommend to anyone to enter the Zwift Academy next year. Even if you don't want to participate for the pro contract, it is a really challenging program of workouts. After this year's Zwift Academy, I made so much progression in cycling in just five or six weeks time. It really is an amazing opportunity to show 'what you've got', and making it to the Finals Week is such an amazing experience. It is not only a week of suffering and hard challenges: it is a week where you learn from the best, develop, make the best friendships with people from so many different countries, and so much more. It was such an incredible journey!
Thank you Maud for this great insight and we hope more are indeed inspired by you and follow in your footsteps next year.
Maud races in the instantly identifiable kit used by the Development team during the last season. (Image credit: GCN)
After a long road to recovery, Maud was able to start racing again and immediately tore the legs off of her teammates in her first team time trial since coming back. If it wasn't for her still being 17 at the time we would have loved to have tested her abilities in the Premier Division of the Zwift Racing League. Sadly, the minimum age limit blocked this from happening, but regardless she proved her strengths in the community racing.
Rhys Howell, Team Manager
When Maud joined the team her talent was undeniable and I knew right away that she would be an incredible asset to the team despite her young age. When we analysed her performance metrics it was quite shocking what numbers we were looking at for a 17-year-old. Sadly, Maud was not able to compete in the first seasons due to a very nasty crash but we did what we could to support her and give her time to recover. She showed amazing spirit then and it makes this win even more special in my eyes.

Naturally, I am over the moon for Maud. I know the team well over at Canyon//SRAM and they have the perfect environment for a young rider with her kind of talent. On the flip-side, we are obviously sad to see her leave and not continue with the team for another year but I think this proves that what we are doing has real potential. When I started the team's journey back in late 2018 I never thought we would get to this point so quickly whereby we can be part of a rider's journey from junior to professional. At the moment we operate with few resources, so it's incredible what has been achieved in such a short space of time. I believe that this model can be the future of the sport and with further investment, we could transform professional cycling. We've now shown we can play a part in that development pathway and pass riders on to bigger teams. The plan would be to retain the talent we find and give them many more opportunities so they don't need to go elsewhere. So let's see what the future holds.
Soon, it will be time to announce the next cohort in the evolution of the Development Programme. Despite asking, Maud will not be joining us due to receiving a better offer ;) We wish her the best of luck and will be watching how her career progresses over the coming years. A massive congratulations from the staff and all the riders at Canyon Esports!
You can watch all episodes of the Zwift Academy finals on GCN.