Today we are super-excited to announce the launch of our 'development squad'. The new squad will consist of around 20 riders aged between 16-23 years old, with a representative mix of both male and female riders from across the globe. Eligible riders have the opportunity to directly apply for a place, simply by filling out an application form that takes into account their ambitions, attitude and results.
The development squad will race in the striking pink 'fan' kit that we launched earlier in the year, as well as receiving an essential support package from Canyon and our other team sponsors. Not only this, but successful applicants will receive invaluable mentorship from our existing riders - something team manager Rhys Howell feels is the most valuable aspect to the setup: "When you join our team, you're joining a family that supports one another; team culture is something we really cherish. Our riders can provide invaluable advice in the same way we have supported Canyon's other professional road teams like Alpecin-Fenix. With the increasing exposure of eRacing, we can support the full ambition of young riders looking to progress in the world of cycling".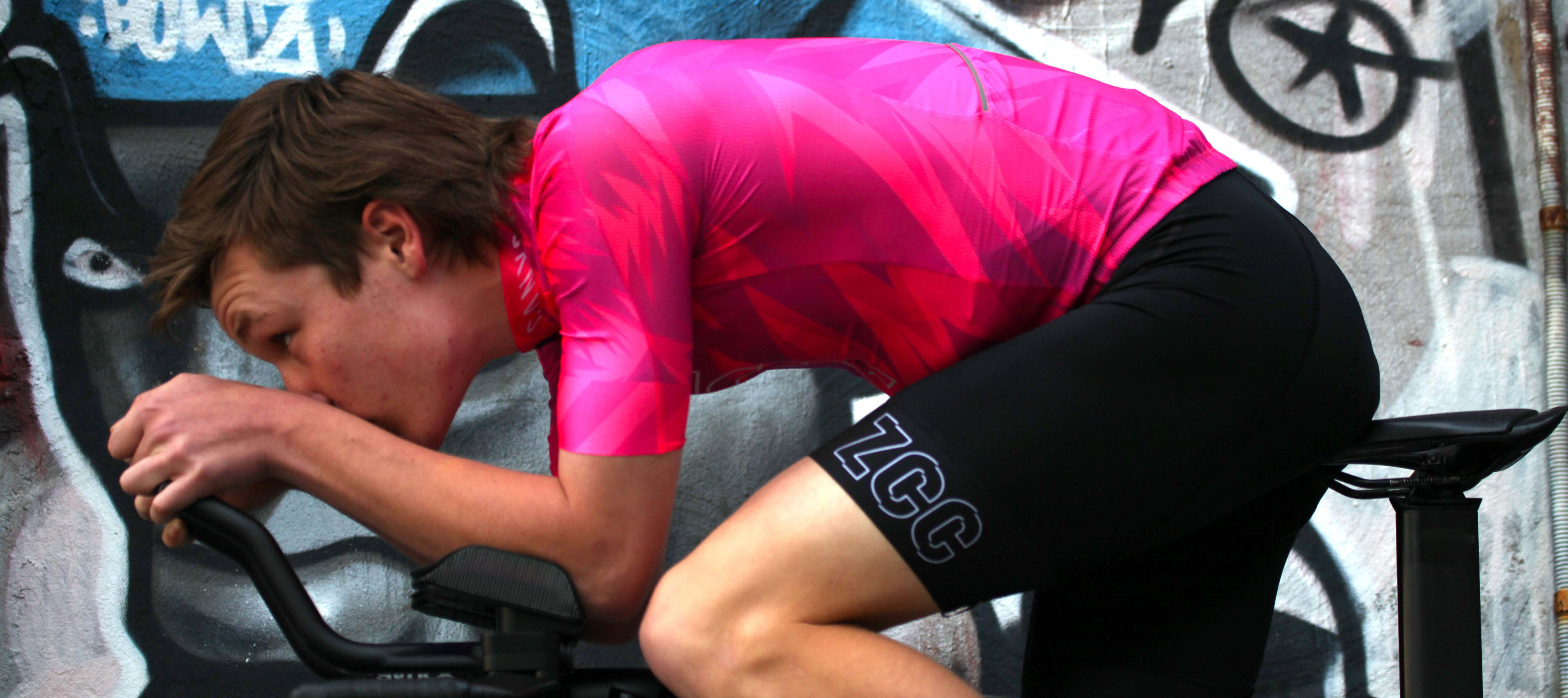 Aiden Sinclair (16, Australia) has already been training with us over the summer and has helped us get some of the basics right ahead of opening up applications to a wider group of people. Here's what he had to say after his first few months riding with us:
"I feel fortunate to be given the opportunity to race for the Canyon Development squad ahead of its completion. For me, it has already been a great opportunity to connect with and learn from Ollie Jones and Alex West who I've raced with a lot within the SRAM Send it series and KOA leagues. On top of that, the team invited me to race at the highest level in a Zwift-sanctioned Pro-Am - this was a fantastic opportunity to test myself against the best in the business. I cannot wait for the full squad to be announced and to work with my new teammates from around the world."
Canyon has a long history of nurturing young talent, and we're excited to be continuing that legacy with the introduction of the development squad. We've already built one of the most successful teams in eRacing, and now it's time to start sharing our experience with a younger generation of riders. We're always looking for ways to build a more sustainable ecosystem around the team, so this feels like an important step forward. We can't wait to start working with the next generation of racers!
Apply now
Think you've got what it takes? Then applying is simple! Just fill out the application form and we'll take a look at your details. Applications are open from today and will close on 30th August 2020. Following this, there will be a review and interview process with successful applicants informed in September.
An important note: we know that cycling, and especially eRacing can be very expensive. Whilst we do place great emphasis on topics such as dual-recrding with two power-sources, we also appreciate that this can be too much of a financial hurdle for many people. Please do not let this deter you from applying. If you're a promising rider, you will undoubtedly have performances on the road you can reference in your application. There are other steps you can take such as ensuring weight is measured accuately before races and having an active zwiftpower account. We wish you the best of luck and look forward to hearing from you.
APPLY NOW! Applications have now closed.